FlowBase - More support for your employees: more performance for your company
During the daily work with software you often only need a small hint to stay in "flow". This is exactly where FlowBase steps in. The intelligent Performance Support System gives your employees "on the job" help when they work with software precisely when it is needed.
Like a personal assistant that shows you on the screen at work in software where to click. This is made possible by an artificial intelligence that recognizes which information is needed depending on the employee's level of knowledge and user behavior. This saves time, nerves and increases the performance of your company.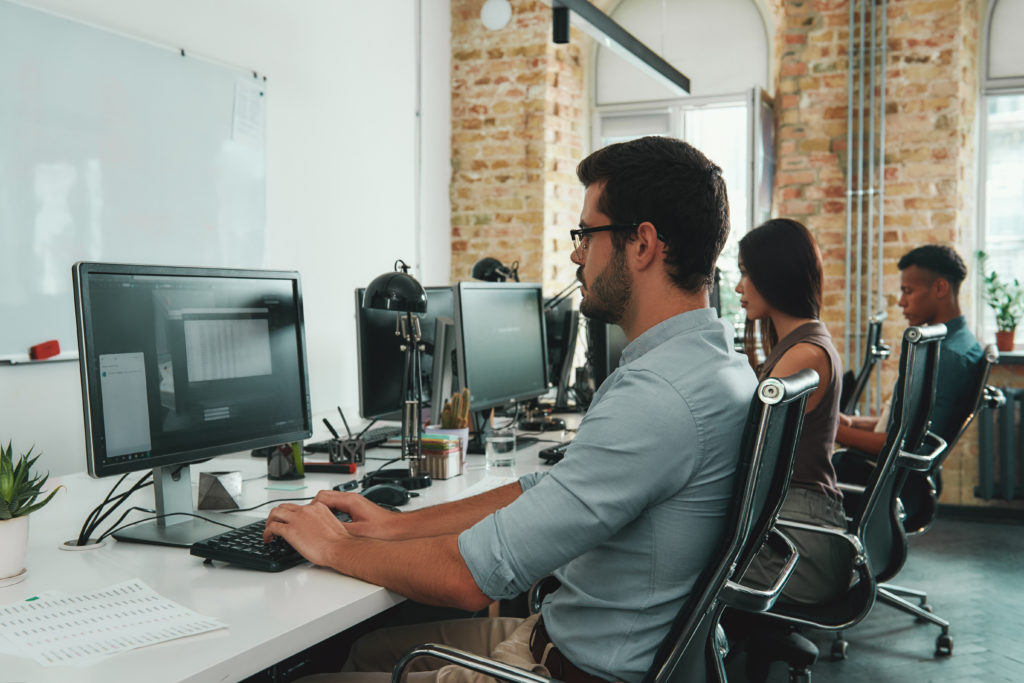 How FlowBase eases
your employees' everyday work.
New software know-how is usually passed on through complex instructions, face-to-face presentations or training courses often lasting for several days. During this time, employees are not able to work and this kind of knowledge transfer is not very productive.
Why conventional methods like training are not sufficient.
Employees acquire software knowledge only 10% through training, 20% through the work environment and 70% through daily work at the workplace.
The 10% acquired knowledge will decrease even further if one considers that users forget 75% of the knowledge acquired in training courses within one week. The result of these conventional approaches: Spending unproductive hours and still insufficient skills for daily work.
To avoid this process of forgetting, it is important to recall the newly acquired know-how over and over again. This is only possible if the information is directly available during the daily work.
of software know-how is acquired through training.
of the know-how is forgotten within a week.
With FlowBase, your employees receive this help directly at their workplace, directly in the program they are working in. In this way you save a lot of time and even the employees who usually hold the training sessions (e.g. HR or managers) have their heads free for important things.
How FlowBase
works in the field
1. Software know-how is captured in a standardized way
A key user creates a step-by-step guide (a so-called flow) with FlowShare. These instructions are stored and managed in FlowBase. The unique benefit: an AI automatically selects exactly the right instructions for the user and makes them available when the user needs them.
2. End users get help directly on screen when they need it.
With FlowBase, end users can easily access defined workflows.
And receive the appropriate help on the screen in the program in which they are currently working. Exactly when it is needed.
3. Maintain an overview over software adoption and important operations and processes within your organization.
Die Dashboard Ansicht ermöglicht Ihnen einfachen Überblick darüber, wie effektiv Software in Ihrem Unternehmen eingesetzt wird. Finden Sie auf einen Blick Verbesserungspotentiale und erhalten Sie Gewissheit darüber, welche Software wirklich erfolgreich angewendet wird.
How your employees and your company benefit from FlowBase
capture all important processes in a standardized way.
ensure rapid transfer of knowledge.
How can we support your performance?
Arrange your free consultation session.